Expert Power Washing in Long Island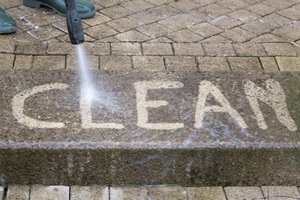 At Charlie's Roof Cleaning, we also offer superior quality cleaning results from the power washing services that we provide. However, you can rest assured this is not the approach that we use for our actual roof cleaning services. Our expert roof cleaners perform quality roof washing using non-pressure roof cleaning techniques that help to preserve the structural integrity of your roof and roofing material. Rest assured this dedication and care we take with cleaning roofs carries over to our efforts for power washing in Long Island, too.
Our power washing method is how we achieve exceptional results for cleaning homes and exterior surfaces such as vinyl, bricks, stucco, pavers, cement and blue stone, just to name a few. Pressure washing certainly still has an essential place in the world of superior exterior cleaning services in Long Island. It is just about knowing which materials it pairs well with, without causing damage.
We are a family owned and operated business, and we take great pride in the impeccable reputation that we have managed to uphold. We work with both residential and commercial clients, and have professionally cared for over 2000 rooftops since first launching the company in 2009. Our work ethic and dedication to the satisfaction of our customers is how we have been able to build the name that we have for ourselves.
High Quality Power Washing in Long Island With Long Term Results
So what makes our company the obvious choice, when it comes to exterior power washing services?
We offer the finest services that provide the best results. This not only enhances the curb appeal of your home, it helps to protect the integrity of these materials.
Our cleaning services are not about a quick fix. The work that we do is intended to offer long term solutions.
We stand behind the work that we do. The work we provide you with is fully guaranteed, as is your satisfaction.
Our Long Island pressure washing company is also fully insured and we are available to offer same day results. We realize that when you call on us, you don't want to have to wait to get your service needs addressed.
The best way to find out is to find out firsthand. Give us a call today and set up an appointment for your free estimate for power washing in Long Island. You are going to love the way your home or business looks, once we get done with our professional pressure cleaning services.
Local Long Island Power Washing Experts
Ready to enhance the exterior of your home and have it looking as good as new? Then make the smart call and contact Charlie's Roof Cleaning today. Don't let the name fool you, we may be roof cleaning experts but there is more to our company that just that.
If you would like an estimate for power washing in Long Island, please call 631-433-6449 or complete our online request form.
Recent Articles