Types of Surfaces You Can Clean with Power Washing in Long Island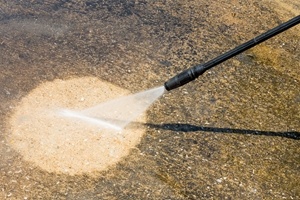 Technically, power washing in Long Island could clean just about any exterior surface. The problem is that this level of force is too great for many surfaces. Unfortunately, some self-proclaimed pros will still use this approach, putting your surfaces at risk.
A prime example is the roof on your Long Island area home. Your home is your biggest and most important investment, and your roof is what protects it from the elements. So, it is of the utmost importance that you keep your roof in the best possible condition and don't put it at risk of damage, especially while attempting to clean it.
Only work with Long Island pressure washing industry experts planning to use non-pressure cleaning techniques, in order to remove those harmful and unsightly black streaks from your rooftop. Of course, that doesn't mean pressure washing is inappropriate for all exterior cleaning. In the right circumstances, this is the best possible approach, but it is a good idea to know which materials it is suitable for.
Some Examples of Safe Pressure Cleaning
Power washing in Long Island can work great on materials such as the following, of course taking the current condition of these surfaces:
Vinyl – Vinyl is a commonly used material for siding. However, siding can get a buildup of dirt and other pollutants. Power washing not only improves the appearance, it helps safeguard vinyl surfaces from possible resulting damage.
Pavers – Pavers are traditionally used for walkways or as the foundation of an outdoor living space, like a patio. Using power washing for cleaning helps enhance the look but, more importantly, removes grime that can become slick. Washing away mildew and algae will make pavers safer for foot traffic.
Bricks – Bricks are still one of the most alluring looking building materials, helping to add to the curb appeal of your home. Yet the collection of green, slimy algae can undo all that and even cause your home to make a poor first impression.
Cement – Cement is commonly used for exterior surfaces, such as hardscapes that are part of the landscaping and outdoor living spaces. Keep it clean helps improve the look and prolongs the lifespan of cement.
And so much more!
Getting Quality Results for Power Washing in Long Island
Savvy homeowners know that the name to call on is Charlie's Roof Cleaning. We are a family owned and operated exterior cleaning business, committed to providing you with the results that you want, need and deserve.
We know when to use power washing in Long Island, and when to rely on non-pressure cleaning techniques. Most importantly, we know how to utilize power washing techniques in a safe manner in order to keep exterior elements of our your house protected from possible damage.
Do you need power washing in Long Island? Call 631-433-6449 or complete our online request form.