The Local Long Island Pressure Washing & Roof Cleaning Pros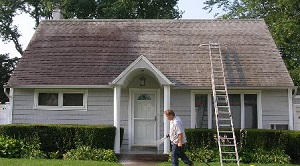 Trying to determine which Long Island pressure washing company is right for you can feel like a daunting task. Don't they all do the same thing and get the same results? Ask anyone who has already worked with our expert team here at Charlie's Roof Cleaning and you will hear about what a difference our exterior cleaning services make for local homes and businesses.
For one thing, we do not make the mistake of treating power washing as a one-size-fits-all approach to exterior cleaning in Long Island. Not all materials and surfaces are suited for the extremes of high-pressured power washing, namely your rooftop. So while we may be Long Island roof cleaning experts, you won't find us using power washing techniques to get the superior results that we do.
We reserve power washing for cleaning the exterior of homes and businesses in Long Island. This means pressure cleaning surfaces like cement, vinyl and pavers, just to name a few. Whatever it is that you need cleaned, you can expect good as new results.
The Best in Long Island Roof Cleaning Services
Your rooftop is the most important aspect of your home and the first line of defense against the elements. It makes sense to want to keep it clean, while taking the best care of it, as possible. What you need to know about our techniques for soft wash or non-pressure roof cleaning in Long Island:
Roof washing is an essential way to rid your rooftop of those dark streaks you see. Those stains are not just unsightly, they are living parasite that feed off the limestone in your shingles, destroying them in the process.
While other roof cleaners in Long Island offer to power wash your roof, you may end up doing more harm than good. This is the equivalent of having category 3 hurricane winds rip at your roofing which is likely to damage your roof, even if it looks clean.
We employ a non-pressure roof cleaning approach that helps your roof look better, but also does not compromise the integrity. We have over 2000 clean roofs under our belt, not something that you can achieve by damaging them in the process.
Your satisfaction is guaranteed. We offer an unconditional 2 year guarantee with our roof washing services in Long Island. However, in most cases, you should not see the return of roof lichen for approximately 5 years.
Your Long Island Power Washing & Roof Cleaning Pros
The bottom line is that, when it comes to both power washing and roof cleaning in Long Island, you can count on Charlie's Roof Cleaning. We take this line of work seriously and that is evident from the results that we are able to get, for every one of our customers. Our goal as your local Long Island pressure washing company is to provide you with long term peak performance and longevity for all of your exterior surfaces.
If you are looking for a professional Long Island pressure washing or roof cleaning company then please call 631-433-6449 or complete our online request form.