Keep Your Pavers and Bricks Looking like New with Our Power Washing Services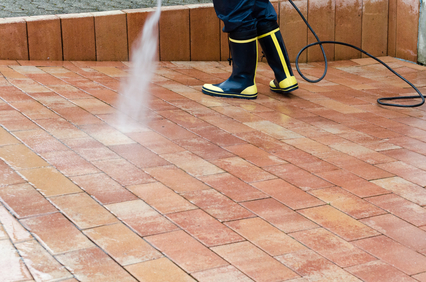 Because they are so beautiful and long-lasting, bricks and pavers will prove to be a great addition to your Long Island home's landscaping. Whether you want to use them for a stylish driveway, a walkway, or even a patio, you'll enjoy a beautiful, unique look for your home with them. To continue enjoying the beauty that bricks and pavers can offer, you need to keep them looking great with regular pressure washing cleaning work. The pressure washing pros at Charlie's Roof Cleaning can keep your bricks and pavers looking beautiful and new, allowing you to enjoy their stunning appearance for years to come.
Some Preparation Tips for Your Brick and Paver Cleaning
>If you want the quickest and best possible results from your brick and paver cleaning, you need to carve out a little bit of time to prepare for a visit from us. This time can be spent simply clearing off your driveway and other areas to be cleaned of anything that might get in the way of the job:
Patio furniture
Outdoor storage materials
Vehicles
By taking just a little bit of time to handle this preparation yourself, you'll free our power washing pros to come in and get right to the cleaning. The results will be much quicker, and since we'll be able to focus on only the job itself, we can guarantee a higher-quality
Better Curb Appeal and Resale Value with Beautiful Pavers
Pavers can make a stunning, eye-catching addition to any home. So, if you're looking to make your Long Island home stand out, you can't go wrong with pavers. They can help to increase not only your curb appeal but also your property value, making them a great investment. To best maintain this investment, you need to call for our
pressure wash
paver cleaning service on a regular basis. This service will help to keep your pavers looking beautiful while ensuring they enjoy the longest possible lifespan, making this service a great investment. After all, it will help your home retain its curb appeal and resale value.
If you would like an estimate for roof cleaning in Long Island, please call 631-433-6449 or complete our online request form.
Recent Articles
Understanding the Benefits of Professional Roof Cleaning in Long Island - Obviously, you want your Long Island home to look its best, and the roof is a big part of this. In fact, even homes that are otherwise clean can become completely unsightly, due to the presence of black stains. Professional roof cleaning, performed by experts who do not use power washing for roof cleaning in Long Island, helps enhance the look, but it is about more than that … Read More
Types of Surfaces You Can Clean with Power Washing in Long Island - Technically, power washing in Long Island could clean just about any exterior surface. The problem is that this level of force is too great for many surfaces. Unfortunately, some self-proclaimed pros will still use this approach, putting your surfaces at risk … Read More